In Today's video, we take a look at the Your Choice Aquatics 1/8 HP C-Series Chiller, which is available at Premium Aquatics.
Your Choice Aquatics Aquarium Chiller:
https://goo.gl/CthTjo
https://www.youtube.com/watch?v=YdiG...em-uploademail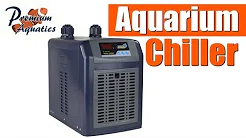 Enter to win this product:
1. Watch video and hit Thumbs up
2. Subscribe if you haven't already to our channel
3. Post a comment on the YT video page.
Visit Premium Aquatics:
https://premiumaquatics.com
Follow Premium Aquatics -----
Facebook -
https://www.facebook.com/PremiumAquatics
Twitter -
https://twitter.com/premiumaquatics
Instagram -https://www.instagram.com/premiumaquatics/